Home
» » Top Blog Tutorial - Blog Panduan untuk Blogger Pemula. dan ProBlogger untuk mengedit Blog
---
Video AS Roma vs Juventus Hasil Akhir 0 - 2
Posted: 03 Apr 2011 02:14 PM PDT
TBT
- Juventus menalukkan AS Roma dua gol tanpa balas pada pertandingan Serie A di Olimpico, Minggu (3/4/2011). Ini adalah kemenangan kedua dalam dua pertandingan terakhir.
Pertandingan sempat berlangsung sulit bagi Juventus, terutama pada babak pertama. Sementara Roma terus menambah daya serang, Juventus tak banyak melakukan banyak perubahan.
Ketekunan "Si Nyonya Tua" akhirnya membuahkan keunggulan pada menit ke-60 melalui Milos Krasic. Dari tengah kotak penalti, ia melakukan tendangan first time pada bola kiriman Fabio Grosso, yang berakhir di sudut kanan bawah gawang Doni.
Roma berusaha mengejar ketinggalan. Namun, Juventus mampu mematahkan serangan-serangan Roma dan mampu memperbesar keunggulan berkat gol Alessandro Matri pada menit ke-74.
Gol bermula dari pergerakan Grosso di sektor kanan pertahanan Roma yang berakhir dengan sebuah umpan silang. Matri yang berada di tengah kotak penalti menyambut bola dengan tendangan kaki kanan yang membuat bola bersarang di tengah gawang Doni.
Selama 90 menit, Roma menguasai bola sebanyak 56 persen dan menciptakan lima tembakan akurat dari 17 usaha. Sementara Juventus melepaskan enam tembakan akurat dari 15 percobaan.
Dengan hasil tersebut, kedua tim tak berubah dari posisi sebelumnya. Roma ada di tempat keenam dengan 50 poin dan Juventus berada dua angka di belakangnya.
Susunan pemain:
Roma: Doni, Juan, Philippe Mexes (Marco Cassetti 51), John Arne Riise, Nicolas Burdisso; Daniele De Rossi, David Pizarro, Mirko Vucinic (Marco Borriello 74), Jeremy Menez; Francesco Totti, Simone Perrotta (Rodrigo Taddei 74)
Juventus: Marco Storari, Leonardo Bonucci, Andrea Barzagli, Fabio Grosso (Frederik Sorensen 82), Marco Motta (Zdenek Grygera 45), Felipe Melo, Claudio Marchisio, Alberto Aquilani; Simone Pepe, Alessandro Matri, Milos Krasic (Hasan Salihamidzic 86)
Wasit: Gianluca Rocchi
[via -
Download
download
]
Gempa 7.1 SR di Cilacap rawan tsunami
Posted: 03 Apr 2011 01:32 PM PDT
TBT
- Gempa bumi kembali mengguncang Pulau Jawa. Dini hari ini, Senin (4/4/2011), pukul 03.06 WIB gempa berkekuatan 7,1 SR mengguncang Cilacap, Jateng dan berpotensi tsunami.
Informasi dari Madan Meteorologi Klimatologi dan Geofisika (BMKG), gempa terjadi di 293 km barat daya Cilacap atau 10.01 LS dan 107.69 BT.
Pusat gempa berada kedalaman 10 km.
via http://twitter.com/infogempabmg
Hasil Moto GP Jerez, Spanyol 3 April 2011
Posted: 03 Apr 2011 09:04 AM PDT
TBT
- Jorge Lorenzo memenangi balapan penuh drama di Sirkuit Jerez, Spanyol, Minggu (3/4/11), yang diwarnai insiden tujuh kecelakaan. Di hadapan pendukungnya, pebalap Yamaha tersebut mengalahkan Dani Pedrosa (Repsol Honda) dan Nicky Hayden (Ducati), yang berturut-turut finis di belakangnya. Dengan hasil tersebut, Lorenzo kini memimpin klasemen sementara dengan nilai 45, disusul Pedrosa dengan poin 36 dan Stoner (25).
Sementara itu, nasib sial menimpa sejumlah pebalap, termasuk Casey Stoner dan Valentino Rossi. Ketika sedang bertarung untuk memperebutkan posisi dua, mereka terlibat kecelakaan pada lap keenam, membuat Stoner jatuh dan gagal melanjutkan lomba.
Namun, Rossi yang start dari posisi 12 berhasil menyelesaikan lomba. Sempat ditindih motornya, "The Doctor" bangun untuk berjuang lagi dari bawah. Pelan tapi pasti dia mulai menyodok ke depan dan berhasil finis di urutan lima.
- Hasil GP Spanyol
Pos Rider Team/Bike Time/Gap
1. Jorge Lorenzo Yamaha 50m49.046s
2. Dani Pedrosa Honda + 19.339s
3. Nicky Hayden Ducati + 29.085s
4. Hiroshi Aoyama Gresini Honda + 29.551s
5. Valentino Rossi Ducati + 1m02.227s
6. Hector Barbera Aspar Ducati + 1m08.440s
7. Karel Abraham Cardion Ducati + 1m14.120s
8. Cal Crutchlow Tech 3 Yamaha + 1m19.110s
9. Toni Elias LCR Honda + 1m42.906s
10. John Hopkins Suzuki + 1m48.395s
11. Loris Capirossi Pramac Ducati + 1m51.876s
12. Andrea Dovizioso Honda + 1 lap
Retirements:
Colin Edwards Tech 3 Yamaha 26 laps
Ben Spies Yamaha 24 laps
Randy De Puniet Pramac Ducati 16 laps
Marco Simoncelli Gresini Honda 11 laps
Casey Stoner Honda 7 laps
- Klasemen sementara
1. Jorge Lorenzo 45
2. Dani Pedrosa 36
3. Casey Stoner 25
4. Nicky Hayden 23
5. Valentino Rossi 20
6. Hiroshi Aoyama 19
7. Andrea Dovizioso 17
8. Hector Barbera 14
9. Cal Crutchlow 13
10. Karel Abraham 12
11. Marco Simoncelli 11
12. Ben Spies 10
13. Colin Edwards 8
14. Toni Elias 7
15. John Hopkins 6
16. Loris Capirossi 5
[via -
kompas
]
Read Hajime no Ippo Chapter 931 Manga Online
Posted: 03 Apr 2011 08:53 AM PDT
TBT
- Ippo Makunouchi is in for another big boxing match against Kojima Hisato in his career. This is another event that you shouldn't miss in hajime no ippo 931. Lots of boxing fans are eying on this big event and would love to see who will win this bout. Even the fighters who fought Ippo before are very interested on what the outcome might be since many have given Kojima lesser credit for his abilities and accomplishments. Catch another great action in hajime no ippo chapter 931. More information about this chapter is available after the jump.
Read Hajime no Ippo 931 and get advance on the story line. You probably know that if you read this chapter first, you will have the advantage of knowing everything about this manga chapter which you can use when discussing with your friends, school mates or even family. What do you think about the outcome of this match? Go on and give us your best prediction by leaving your comments.
Hajime no Ippo 931 is set to be released on Apr 4, 2011 so better mark your calendars and be one of the first to read it online.
images: jbox.com
Watch Sevilla FC vs Real Zaragoza Online live stream free
Posted: 03 Apr 2011 08:48 AM PDT
TBT
-
Watch Sevilla FC vs Real Zaragoza Online live stream free 3 April 2011
. Spanish Primera Division between Sevilla FC vs Real Zaragoza live feed streaming video direct en vivo TV Online free.
Stadium: Estadio Ramon Sanchez Pizjuan, Spain
Date Match: 3/04/2011
Kick-Off Time: 19:00 CET
Above is a links channel to Watch Sevilla FC vs Real Zaragoza live Free Stream. You also can Watch this match Online by following TV channel from Nenggeulis Sports, beacuse They also get the video from myp3p. atdhe, Justin TV, Ustream, Freedocast, Veetle and many more streaming paltform in HD (High quality video). ok folks, Remember there is free watch Sevilla FC vs Real Zaragoza live online stream. Goals scorer and video highlights will be available after full time of this game.
Arcade Fire Join LCD Soundsystem Onstage For Farewell Show at MSG
Posted: 03 Apr 2011 06:05 AM PDT
TBT
- The two indie super groups pair up for LCD's high-energy "North American Scum."
Members of Grammy-winning indie rock band the Arcade Fire joined LCD Soundsystem on stage at Madison Square Garden on Saturday night, handling background vocals on the song "North American Scum," off of LCD Soundsystem's 2007 album Sound of Silver.
The MSG show, which sold out in seconds, is LCD's farewell concert and was preceded by four performances at New York's Terminal 5. LCD frontman James Murphy introduced Arcade Fire's Win and William Butler and Régine Chassagne with a long-winded explanation of how the band has its roots in both Canada and the U.S. -- a fitting preamble considering the title of the song, but also one that prompted Butler to yell, "Shut up and play the hits!"
Amping the already frenetic energy on stage, the pairing of these two indie super groups served the song well, as did a full brass section which Murphy described as "two horny horns, one flatulent drummer and four troubled souls." The singer later remarked that the band hadn't played "North American Scum" for a couple years "because we're f--king idiots." The band closed out the night with another song from Sound of Silver, "New York, I Love You But You're Bringing Me Down."
LCD Soundsystem announced their retirement on February 5 and in leading up to the April 2 show, much has been written of their impact on music and the industry. Their last televised performance was on The Colbert Report on February 14. In recent years, Murphy has expanded his portfolio, which includes being a co-founder of New York-based DFA Records, with film work. He arranged and scored the soundtrack to 2010's Greenberg.
[via -
hollywoodreporter
]
'Green Lantern' WonderCon Trailer
Posted: 03 Apr 2011 06:04 AM PDT
TBT
- The popular DC comics character, Green Lantern, will be featured for the first time in a live-action film this summer under the direction of Martin Campbell (Casino Royale).
Ryan Reynolds, who stars as the title character, is at WonderCon in San Francisco today with his co-star Blake Lively (Carol Ferris), and DC's chief creative officer Geoff Johns for a panel discussion -- followed by select press interviews.
We were there to attend the panel and speak with the stars, and have created a video breakdown with our friend Eric Eisenberg from Cinema Blend on all things Green Lantern.
But first — take a look at the abridged version of the WonderCon Green Lantern footage!
As you can see from the opening in this trailer, the CGI for Mark Strong's Sinestro is phenomenal, it seamlessly blends actor and character; though, this rousing speech came at the end of the full sequence that we were shown. The full scene included the introduction to Parallax (mostly effective here as the embodiment of fear) and his defeat of Abin-Sur, Hal Jordan's acceptance of the ring, his journey to Oa and the inception of his training with Tomar-Re (the first footage of Geoffrey Rush's voice work), which is perfectly suited to the role.
As we discuss in the panel wrap-up below, the look of the footage is a vast improvement over the original trailer that was released. Warner Bros. has made the necessary adjustments, and the suit on Hal Jordan is one that most fans will likely be able to get behind (thought the mask still needs a bit of tweaking). The tone of the film, as seen thus far, is grounded yet inspirational as well as exhilarating, and entertaining -- while maintaining a sense of the consequences and responsibility involved in becoming a member of the Corps. The focus here is on Jordan becoming a Lantern and beginning to learn who and what they represent. We look forward to seeing more footage of his time and relationships on Earth in the near future, and hope that it's as exciting as what we see have seen here.
Posted: 03 Apr 2011 06:02 AM PDT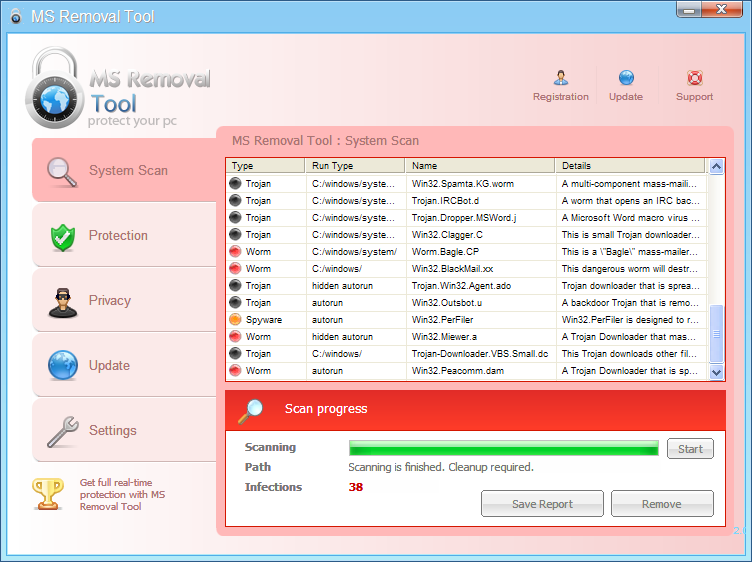 TBT
-
What is MS Removal Tool?
MS Removal Tools is a false security client. This rogue application acts similar to a legitimate anti-virus client but it's nothing more than a scam. Fake security clients like MS Removal Tool is nothing new. In fact this exact threat has come out before under the names of System Tool , Security Tool and Total Security. While being infected is bad we are here to help you fully remove this threat. Be sure tyo read the full guide before starting. Watch the full videos as they will help you big time.
How Did I get infected with MS Removal Tool?
It's anyone's guess exactly how you got infected. If you were infected with a trojan virus you could of been infected weeks ago and just now the trojan went out and downloaded MS Removal Tool. It's not uncommon for those who use free anti-virus clients or no antivirus clients to get infected as well. Free clients do not offer enough protection in todays cyber world. You need active live upfront protection that can detect and stop potential threats. Another way users become infectred is from false programs that pretend to be a video or software update. Once you isntall the so called update you actually just installed a virus on your computer.
[via -
Download
download
]
Great Ice Cream Sundae War Celebrated By Google Doodle
Posted: 03 Apr 2011 06:00 AM PDT
TBT
- Surprisingly, the ice cream sundae has a controversial past. It is said to have been invented accidentally. The urban tale goes that in more austere times the clergy deemed the popular dessert, ice cream sodas, to be 'too frilly' a food to eat on the Sabbath (naturally a Sunday). So, instead of offering an ice cream soda, ice cream was served with cherries and syrup drizzled on top.
"Some historians claim, but never proven to be true, that the name "sundae" was created in response to the "Blue Laws" which said that ice cream sodas could not be sold on Sundays because they were to "frilly." For some reason the "righteous" very much against what they called "sucking soda" (especially on the Sabbath and the clergy started preaching against them). The dish has gone by other names at various time, most notably "sundi" and "sondhi." Some accounts have explained all these names as attempts to avoid offending the sensibilities of the devoutly religious, which might take a dim view of a pile of ice cream and syrup being named after the Sabbath."
Source: Source: What's Cooking America
You are subscribed to email updates from Top Blog Tutorial
To stop receiving these emails, you may unsubscribe now.
Email delivery powered by Google
Google Inc., 20 West Kinzie, Chicago IL USA 60610
Jangan Lupa Jempolnya :
Mungkin juga anda butuhkan atau ingin dibaca :
Jangan Lupa Jempolnya :